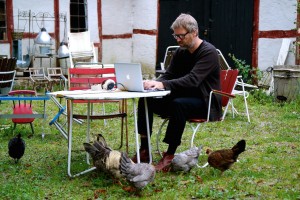 weberg.se
twitter.com/andersweberg
facebook.com/artist.anders.weberg
instagram.com/andersweberg
Anders Weberg (b.1968) is an Swedish artist working with video, photography, sound, new media and installations and he is primarily concerned with identity. Specializing in digital technologies, he aims to mix genres and ways of expression to explore the potential of audio visual media.
He coined the term Peer-to-peer art or (p2p art) in 2006. Art made for – and only available on – the peer to peer networks. The original artwork is first shared by the artist until one other user has downloaded it. After that the artwork will be available for as long as other users share it. The original file and all the material used to create it are deleted by the artist. "There's no original". Six films with a duration between 45 minutes and 9 hours have been uploaded on the file sharing networks in one copy and their original have been deleted. P2P Art – The aesthetics of ephemerality.
Currently working on a 720 hours long video art work titled Ambiance that will premiere in 2020.
http://www.thelongestfilm.com
Also the founder and curator of the AIVA, International Video Art Festival 2012-2014 and the Stian gallery of [con]temporary art.
http://www.aivafestival.com
Since 2001 Anders has visited numerous universities, festivals, museums, galleries, conferences and so on worldwide where he presented his works, told stories on how he survived on doing this full-time for over 20 years and inspired listeners. Get in touch if it sounds interesting.
anders [at] weberg.se
Currently based in the small village Kölleröd in the south of Sweden and has exhibited at numerous art/film festivals, galleries, and museums internationally, including:
Oscar Niemeyer Museum, Curitiba, Brazil; Biennale of Sydney, Sydney, Australia; Museum of Modern Art, Buenos Aires, Argentina; File Brazil 2007-2008-2011- 2012, São Paulo, Brazil; FutureEverything, Manchester, UK; National Museum of Contemporary Art, Athens, Greece; Beijing Contemporary Art Centre, Beijing, China; Cape 09 Art Biennale, Cape Town, South Africa; National Museum, Szczecin, Poland; [10th] Japan Media Arts Festival, Tokyo, Japan; Barcelona International Festival of Advanced Music and Multimedia Art, SONAR, Barcelona, Spain; Scope New York, US; Museum of Contemporary Art (MAC), Santa Fe, Argentina; Pocket Films , Centre Pompidou, Paris; Videoformes, Clermont – Ferrand, France and EMAF, European Media Art Festival, Osnabrück, Germany.